How My Magic Story Works
The enchanting process of
creating the cherished treasure
of personalised children's books.
Storytelling has been the vehicle for sharing values across generations throughout the history of humankind. It's what teaches us how to be empathetic, how to love, how to respect one another and how anything is possible through the power of imagination. Personalised children's books, where they are the protagonists, empower them to become see themselves as friends.
It helps them see that with imagination and compassion, they can create the world they want. Instilling a love for reading at an early age develops solid foundations for healthy and happy children.
So how do we make these magical, personalised books?
My Magic Story's team of earnest fairies works hard to maintain a steady stream of new ideas for books for the world's smallest superheroes. We're a family of fairies who find delight in sprinkling the right kind of dust onto these ideas to turn them into unique books that will have a magical, lasting impact.
We believe gifts should be special and go beyond the material. Gifts should be a vector for friendship and values that nurture happy, healthy children. We don't believe in gifts just for giving's sake - these magical gifts are loved by children for years.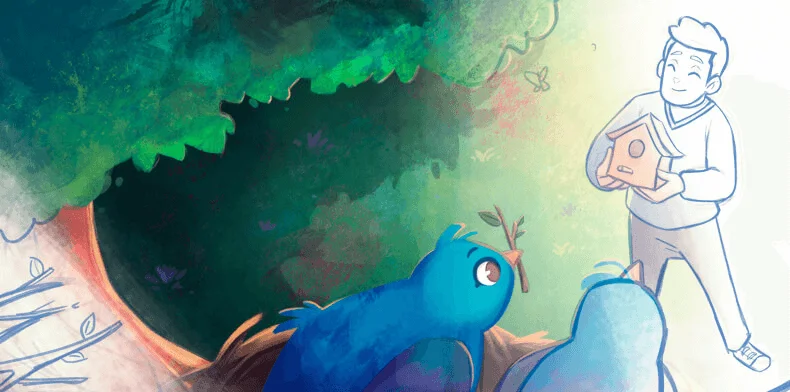 The craft of making personalised books
Each book is custom designed to make each exceptional child feel empowered and confident. Our fairies around the world meticulously craft each page, every brushstroke, and every word to have the most magically positive impact on your child's life. We live to create those ear-to-ear smiles, to see a kid who knows their worth and sees themselves as a valuable human with something to contribute, even if they're still small.
Our goal is simple. To help our next little global generation become kind, curious, confident and able to dive deep into their imaginations for a lifetime. To empower them to radically love themselves and others. Our magic is printed and shipped to every corner of our miraculous planet.

The majestic moment of giving
All the work put into each book pays off every time a child receives this cherished treasure. There's nothing quite as fulfilling as seeing the face of a child when they realise this beautiful, colourful book is about them.
That's what we do this for. To see them shine. To nurture an excitement - an impatience - for reading and learning. To watch them understand values and what it means when they truly believe anything is possible. And most importantly - to see them filled with joy when they know there is no other book on earth like the gift they just received. Because it was made just for them, with love. Our books are empowering. They teach love and friendship, they show children what they'd look like as heroes (even if we know they're heroes already). They take kids to a faraway land with fantastic creatures and friendly mysteries to discover. They show kids how exceptional it can be to be curious about life and learning.
Every single one of our books is unique. Every single one is based on the child receiving the gift. And every single one is made with a love for magic.
Give the most valuable gift of all: empowerment and excitement for learning.